Darjeeling is the prettiest hill station of India, which is located at the northern part of West Bengal. During British Empire, East India Company spotted the beauty of this location and it became the summer capital of West Bengal. The magnificent views and visiting places having calm nature lures a lot of people across the globe. Whether it is the snowcapped Kanchenjunga, beautiful landscapes, bushes of ferns or forest of pine tree or the mountain slopes along with the colonial charm, everything just pleases any one easily.

Darjeeling is a beautiful place where modernity and tradition are leading a happy conjugal life. The famous Darjeeling Himalayan Railway, a world heritage site, has fast running miniature toy train meandering along the rocky terrain up the hill station. A slice of that unconventional Knot-tying between tradition and trendiness can be enjoyed in every corner of our hotel that screams harmony of contemporary design and conventional grandeur.

It was 1700s, when Darjeeling was part of Sikkim and it was coming under Raja's territory. Later Gorkhas took it from Nepal. Then restoring Sikkim from the Nepalese in 1800s British just made Darjeeling a separate land as a health resort for British troops. British people introduced the tree plantation observing the most suitable weather and combination of soil. It was said that First superintendent of Darjeeling in 1841 somehow managed to bring some tea tree seeds of Chinese variety and planted around the bungalow, which is now known as Beechwood. During Campbell's experiment, the result was amazing, where trees grew up to 20 ft and the fact became popularized that the climate in Darjeeling is amazingly suitable for tea production. Later govt. offered more lands for tree production and Captain Smeller became the first tree planter who started the Alubari tea garden in 1956. By 1866, the proper development of Darjeeling started taking place with communication, agriculture, power and education.
A SHORT TOUR OF DARJEELING (Example)
Please Note : This package is just an example. It is just to give you a simple idea
Day 1: Arrival and Transfer to Darjeeling

You need to come at at New Jalpaiguri Railway Station (NJP) / Bagdogra Airport (IXB) / Tenzing Norgay Bus Stand (Junction) – After that you need to go to Darjeeling - Nearly 105 kilometers 3 hours drive – At an height of 2123 meters / 70001 feet lies the land of breathtaking beauty, sloping tea gardens with spectacular views of the Mount Everest is the Queen of the hills – It is also home to the famous World Heritage train – The Darjeeling Himalayan Railway (DHR) - Check into your hotel – Evening free to roam around Mall or local Shopping center - Over Night stay at Darjeeling.

Day 2: Darjeeling Local Sight Seeing (Half Day)

Early morning at around 3:45 AM drive to 8000 feet / 2440 meters through primitive forests of oak, magnolia to Tiger Hill to view sunrise over Kanchendzonga Peak (subject to clear weather) – On the way back visit Ghoom Monastery, Peace memorial & Batasia Loop – Back to hotel for break fast - After breakfast next round of sight seeing - Half Day city tour includes Padmaja Naidu Zoological Park, Himalayan Mountaineering Institute (Closed on Thursday), Ropeway, Tensing Gumpo Rock, Tibetan Refugee Self Help Center (Closed on Sunday), Tea Estate, Natural History Museum (Sunday Closed), Peace Pagoda – Back to hotel – Evening free to stroll around the Mall area or Chowk Bazaar - Overnight stay at Darjeeling.

Day 3: Transfer to Gangtok & Gangtok Local Sight Seeing (Half Day)

Morning breakfast – Transfer to Gangtok – Nearly 135 Kilometers 4 hours drive - Gangtok – The capital of the 22nd State of India, Sikkim is one of the most beautiful hill station with varied options for tourist – It is known for the monastery, Orchids, High altitude Lake and butterflies – It has option for tourist of all ages – Check into Hotel – Drive for visit to Directorate of Handicrafts & Handloom, Research Institute of Tibetology, Do Drul Chorten (Stupa), Enchey Monastery, White Hall, Flower Show, one of the finest monastery where His holy Dalai Lama stayed for some time, etc – Back to hotel – Evening free - Over Night stay at Gangtok.

Day 4: Excursion to Tsomgo Lake & Baba Mandir (Full Day)

Morning breakfast at hotel – Excursion to Tsomgo Lake & Baba Mandir nearly 40 kilometers and 2 hours drive along the Kyongnosla Alpine Sanctuary, the home to the red panda and the blood pheasant with Rhododendron and other alpine trees - Situated at an elevation of 3753 meters / 12310 feet - The Lake is oval shaped lake nearly 50 feet deep - Generally covered in snow for most of the year the year – This lake is home to the Brahmini ducks & many migratory birds – Nearby is the sacred Baba Mandir known to be a very holy site for all - Nathu La Pass to Republic of China is nearly 20 kilometers and is optional tour - Back to Gangtok - Evening free to roam around M G Road (Mall) or local Shopping center - Over Night stay at Gangtok.

Day 5: Departure – Gangtok to NJP

Morning breakfast - After breakfast transfer to Siliguri / New Jalpaiguri Railway Station (NJP) / Bagdogra Airport (IXB) / Tenzing Norgay Bus Stand (Junction) - Nearly 135 kilometers 4 hours drive – You are advised to start early and not to rush - Forwarding Journey.
Tiger Hill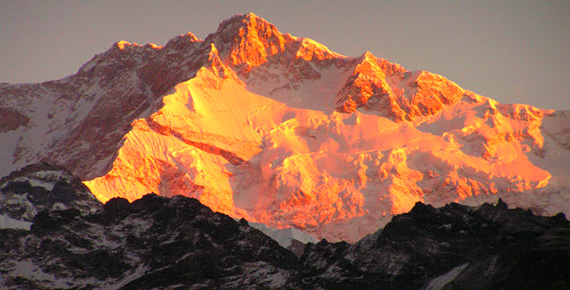 This is a place 13 km away from town and this spot has gained international fame due to the spectacular view of sunrise and sunset over Kanchenjunga. This place is a place 2590 meters above the sea level. The highest peak of Mount Everest is visible from here.
Batasia Loop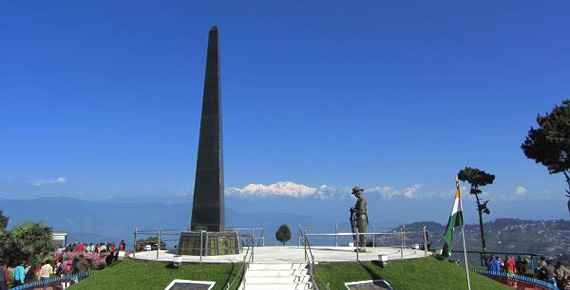 The precious and most admired heritage of India is Darjeeling Himalayan Railway that makes its way through the bunch of bushes and thorny landscapes. This is one of three loops en route to Siliguri from Batasia at Darjeeling. This place is very near to Ghoom railway station.
Ghoom Monastery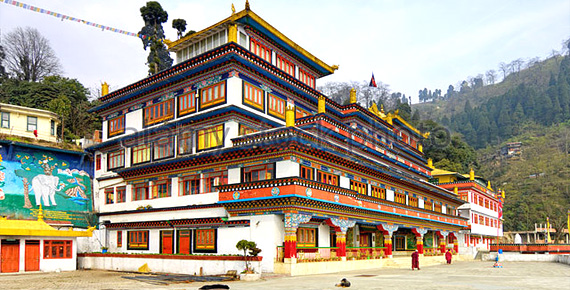 There is an old Bhuddhist Monastery in Ghoom that houses numbers of Buddha images and Tibetan manuscripts. In 1875, Lama Sherab Gyatso built this monastery. According to the ancient tale, Tomo Geshe Rimpoche of Tibet blesses this monastery. Even this monastery is fond of books on Buddhism and even has a statue of coming Buddha known as Maitreye Buddha.
Toy Train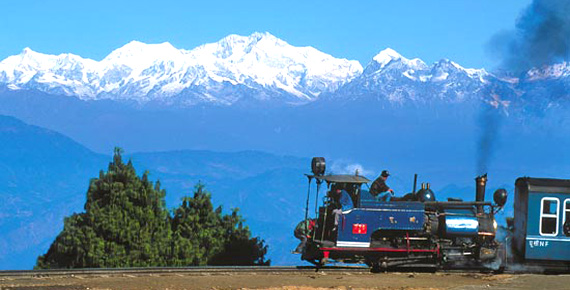 When we think about the toy train today, the first thing comes into our mind is not only a train ride through tangled bushes and thorny landscapes but climates and some additional features that matter. One of those interesting features is the highest peak of Ghoom railway station among other railway stations in India that gives railway ride to visitors with mesmerizing views while having rail journey.
H.M.I.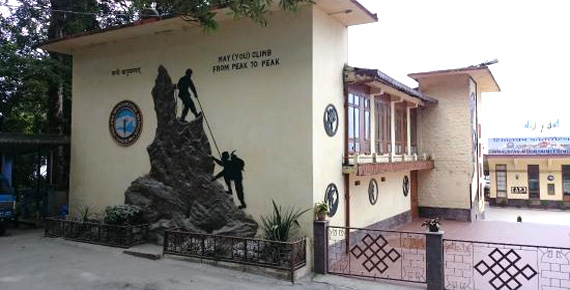 Himalayan Mountaineering Institute is a world famous institute and closely associated with the zoo. Tenzing Norgay was one of the founders and flied director, who was one of the first two Everest Mountaineers. The HMI museum houses numbers of rare collection of mementoes from various expeditions. Naang gambo, the two times Everest climber is now the chief advisor of this institute.
Darjeeling Ropeway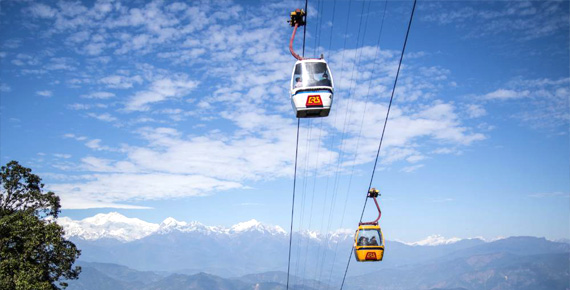 Darjeeling ropeway attracts numbers of visitors due to such height and pleasant views of green lush along with the mystic view of Kanchenjunga range. This ropeway is 5 kilometers long and connects Darjeeling with Singla Bazaar on the Rangeet River at the bottom of the valley.